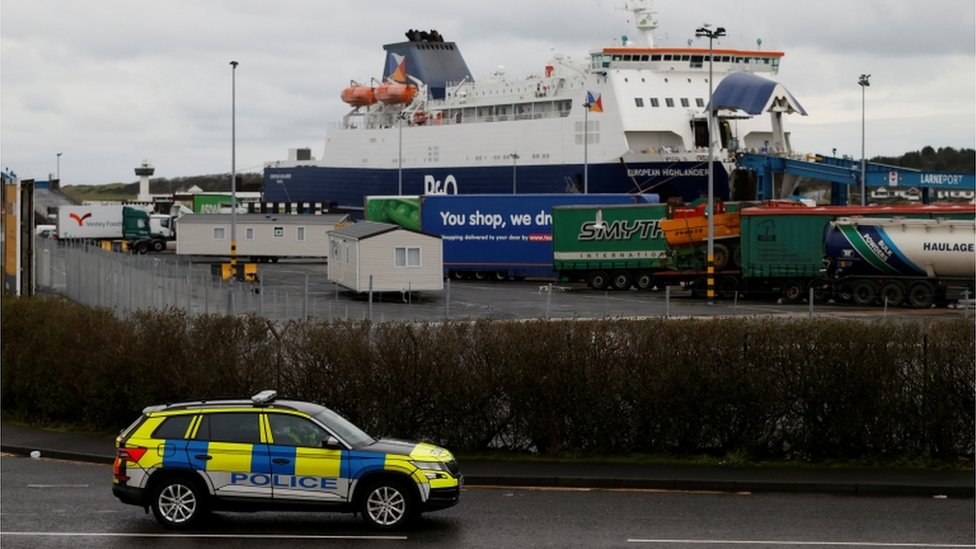 By Conor Macauley
BBC NI Agriculture & Environment Correspondent
Business leaders have described "significant problems" encountered on the Irish Sea trade border in the first week of its operation.
MPs were taking evidence on how new rules on imports from Great Britain to Northern Ireland were working.
They were told some British companies were not aware of how to comply and that had caused difficulty.
Six lorries on the first ferry arriving in Belfast on 1 January were delayed because of incomplete paperwork.
Six out of 15 lorry loads had not been pre-notified and when officials checked the manifest in Belfast it simply said "food", the Northern Ireland Affairs Committee was told.
First goods cross Irish Sea trade border

Five steps that led to an Irish Sea border
What does a trade deal mean for Northern Ireland?
Seamus Leheny of the freight trade body Logistics UK said officials had shown great flexibility to help work up the necessary forms retrospectively and allow the loads to move.
All movements of goods from Great Britain to Northern Ireland now require a customs declaration and some products need additional certification.
That is because while the UK has left the EU, Northern Ireland has remained in the EU single market for goods and is applying the EU's customs rules under a protocol agreed between the UK and the EU.
Mr Leheny also said one large Great Britain-based company had 15 loads of food bound for Northern Ireland but hauliers had been unable to lift them because there had been no accompanying customs paperwork.
He told MPs: "The operator quite rightly said: 'There's no point in me lifting these because I'll simply be detained or refused entry to board the ferry.'"
One Northern Ireland haulier had sent 285 trucks to Great Britain since 1 January but only 100 of them returned to Northern Ireland.
"The knock on is that they can't service NI exports going back to GB because they've got lorries and equipment sitting in England, waiting for loads that aren't ready yet.
"This is because businesses in England, Scotland and Wales haven't been prepared."
'Unmitigated disaster'
Mr Leheny said there were particular problems with groupage – collecting multiple loads in Great Britain – for delivery to Northern Ireland.
He said some hauliers might do about 12 collections and each needed a customs declaration which required 20 to 30 minutes of administration.
The DUP's Ian Paisley said it appeared that even a week in the Northern Ireland Protocol had been an "unmitigated disaster".
The North Antrim MP said he had been contacted by one County Antrim haulier who said it had led to a paperwork mountain, the displacement of his drivers and was "costing him a clean fortune".
He suggested the problems could justify the unilateral setting aside of the protocol under Article 16 of the agreement.
Aodhan Connolly of the Northern Ireland Retail Consortium said the way in which some guidance had been provided just hours before the new rules took effect had created problems.
He said rules on parcel imports had only been given the day before and some operators had suspended deliveries, though many were now recommencing them.
Mr Connolly said retailers were glad there had been a deal and that they had the protocol.
However, they felt the issues in the first week were "just the opening skirmishes" and many had stocked up in advance.
He said some were concerned there were "real hardships" coming when those stocks were exhausted.
Mr Connolly said the Joint Committee – an oversight body of EU and UK officials – needed to work on further simplifications on Great Britain to Northern Ireland trade in the coming months.
"We need the UK and the EU to sit down and talk about… a long-term workable solution because quite frankly this isn't it."
'Globally unique opportunity'
Speaking on BBC Radio Ulster's Talkback programme, Northern Ireland Secretary Brandon Lewis said the government accepted that"things will be different, particularly in the first few days".
But he insisted companies were "dealing with that".
"The [Brexit trade] deal came quite late in the day – for example, the guidance on parcels was published on 31 December," he said.
"But I think people will see, as things settle down, that things will flow as they did in 2020.
He argued that Northern Ireland would have a "globally unique opportunity" as a result of Brexit.
"It has this ability to trade as an integral part of the UK customs union but also with the EU," he said.
"That gives it a competitive advantage."
Mr Lewis said one reason for supposed empty shelves in Northern Ireland supermarkets was a problem already experienced by hauliers at the Dover-Calais crossing at the end of last year.
He denied that stock shortages were linked to the Irish Sea border, which he maintains does not exist.


Source link