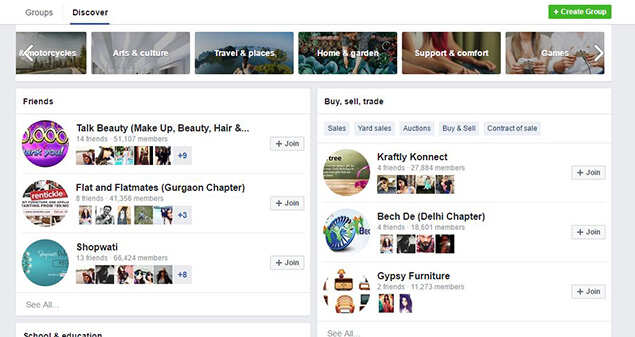 NEW DELHI:
Facebook has launched its Groups Discover feature for users in India. The feature lets users browse through groups divided into 25 categories such as parenting, sports, food, buy & sell and more. Each topic page highlights the top suggested groups, based on popularity and group members that users might already know.
The groups are recommended to users on the basis of their location, interests or whether their Facebook friends are already members

Facebook's Discover Groups tool will be rolled out to users as an update to both iOS and
Android apps of the social network, and is already available on the website. After US and UK, India is the third country where Facebook has rolled out this feature. Interestingly, the feature is not yet available on the Facebook Groups app.
Facebook has also added some other features to its Groups. It now allows users to directly reply to specific comments. They can also drag-and-drop files for attaching them easily.
The company revealed that over 1 billion people use Facebook Groups every month. In India, over 80 million people use Groups each month.
Global product manager for
Facebook Groups, Adit Vaidya said that Facebook Groups is an ad-free feature and the company has no intentions of monetizing it as of now.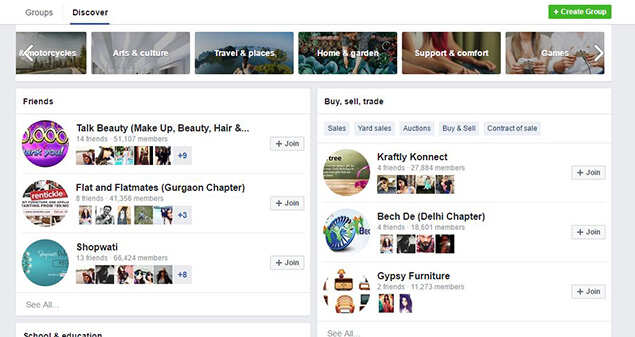 Facebook held a media conference in New Delhi, emphasizing how this feature is helping diverse groups of women across the country get in touch. Facebook also shared two very interesting stories of women groups, including a group of women that came together to crochet the world's largest blanket.
Recently, reports suggested that only 24% of Facebook users in India are female. Last year, the social network's India userbase touched 125 million, making the country its second largest market globally.



Source link