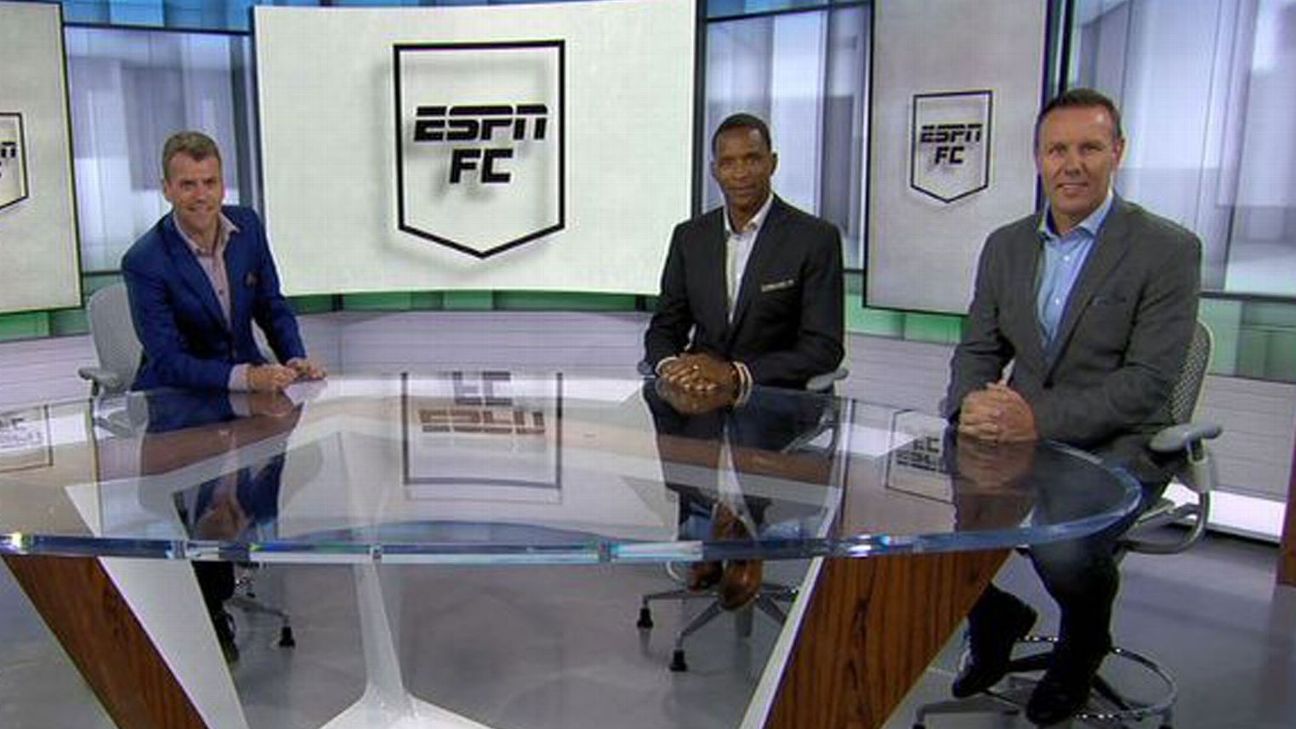 Giovanni Reyna has a pile of match jerseys neatly stacked in one of the unpacked cardboard boxes in his new apartment, located roughly 15 minutes from Borussia Dortmund's Signal Iduna Park home in Germany.
"There have been a lot of firsts for me," he says. He has the Borussia Dortmund jersey from the first time he was included in a matchday squad, then another from his debut. There's a shirt to mark his first goal and another from his first Champions League game.
"There have been cool little milestones I've hit so far." He swapped another jersey for Kylian Mbappe's shirt when Dortmund took on PSG in the Champions League round of 16. "That was pretty amazing."
– Stream new episodes of ESPN FC Monday-Friday on ESPN+
– Stream every episode of 30 for 30: Soccer Stories on ESPN+
All of these events took place in the past four months, but it's no fluke. He arrived at Dortmund as a young, promising American forward in July 2019. It came with echoes of the past. His dad, Claudio Reyna, won 112 caps for the U.S. and played in the Bundesliga from 1994-99. Dortmund had just bid farewell to their beloved American Christian Pulisic. Their narratives are intertwined, but Gio is forging his own path.
Pulisic scored his first Dortmund goal at 17 years and 212 days old. Gio was 17 years and 83 days when he opened his account for Dortmund. It was no ordinary goal. Having made three appearances for Dortmund in the Bundesliga from the bench, he was thrown into their DFB Cup game against Werder Bremen on Feb. 4 as a 66th minute substitution for Dan-Axel Zagadou. Twelve minutes later he received a pass from Julian Brandt 20 yards from goal, took the ball through two Werder defenders, cut inside the third, opened his body and curled it into the top right-hand corner. It was outrageous.
"Gio Reyna is officially here" announced Borussia's Twitter account. But there was no chance of the young American getting carried away. "My first thoughts were, 'We have to get the ball' and go score another as we were 3-2 down. The goal was great, and people say to me, I may not score a goal like that in the rest of my career … but it was just instinct."
The last few months have been a lot for a 17-year-old to process. "I'm learning a lot," Gio told ESPN via Zoom.
After all, being away from home and his family, living through a unique time with the coronavirus pandemic changing our routines and rituals, trying to improve as a young player at one of Europe's most demanding clubs in one of soccer's most challenging leagues: Gio is taking things in stride.
"There have been some difficult times, and I knew it wasn't going to be easy. But all I need to do is keep my head looking forward, eyes on the future and hopefully I can do some more pretty cool stuff."
---
At the time of Reyna's Bundesliga debut on Jan. 18, the noise around Dortmund concerned another new arrival. Erling Haaland, a highly sought after striker, had signed for Dortmund that January from Red Bull Salzburg, scoring nine goals in eight games to open his Bundesliga career, and the two became close friends.
Together with Jadon Sancho, they're arguably the most exciting trio of attackers on the same team in world soccer. The partnership has already paid dividends against PSG where Reyna teed up Haaland for the winner in their first-leg victory in the Champions League last 16.
"I look up to him because he's done so many things in a young career, and he's a great guy," Gio says of Haaland. "He's encouraged me, as he sees something in me." Gio talks of how in training, if they're playing 11 vs 11, or five-a-side, if he sees Haaland with the ball in the box, he starts to head back for the restart as he will inevitably score.
Haaland has become Gio's chauffeur as the U.S. midfielder is too young to drive. He smiles a lot as he talks about Haaland, and then about Sancho — this triumvirate of promising young attacking players, with Gio the youngest of the group.
Sancho, now 20, broke through into Dortmund's first team almost immediately after arriving from Manchester City in 2017.
"I think the biggest thing for any young player is to be confident. … I'm here because I belong," Gio says of the advice Sancho gave him. "Those guys told me mistakes happen, even Messi and Ronaldo make mistakes. You make it, then put it behind you and move on. Jadon knows how I felt. He's been there for me and I could always go to him with stuff if I needed help off the field."
---
Claudio Reyna, now sporting director at Austin FC — which will join Major League Soccer as an expansion club in 2021 — was at an MLS meeting at a ranch 90 minutes outside of Kansas City, Missouri, when Gio came off the bench against Werder Bremen. He remembers watching his son's goal on his phone.
"I kind of picked up more in the second half to start watching when there was an opportunity he could come on. It was obviously a great moment … it was great," Claudio told ESPN.
Claudio and his wife, Danielle, had planned to travel to watch Gio in the second leg of Dortmund's Champions League tie against Paris Saint-Germain back in March. But they cancelled their trip as the match was played behind closed doors due to the coronavirus pandemic.
The cooking lessons Gio had been hoping would be conducted in person are now done via WhatsApp with his mom. "I haven't yet got a speciality," Gio says. "I mean my eggs are pretty decent, but I'm sure everybody's eggs are decent."
Gio and Claudio Reyna talk Gio's move to Borussia Dortmund and learning from Erling Haaland and Jadon Sancho.
His mom has also tried to talk him through the complexities of a washing machine in German — the first few attempts spat out shrunken hoodies and T-shirts. "She tells me what soaps to use, how to do the dishes and stuff," Gio says. "… It's a process right now moving into my own apartment for the first time, but I'm learning a lot. It's cool." He catches up with his younger brother and sister, Joah-Mikel and Carolina, over Fortnite and FaceTime.
"It's been challenging for sure for both of us because, you know, not being able to be around him and he's still young," Claudio says. He laughs as he hears about Gio shrinking his hoodies. And then, as he talks through Gio's goal, there are memories of the nerves he feels whenever he watches his son play.
Claudio won 112 caps for the USMNT and enjoyed a 13-year career with Bayer Leverkusen, Wolfsburg, Rangers, Sunderland, Manchester City and New York Red Bulls. But those nerves …
"It's the worst by far now, it's not even close to when I played," Claudio says. "In management you have the nerves, absolutely … but as a dad … man! That's a whole other … it's crazy. I've talked to other parents of kids who are professional footballers and we've asked them, I said 'Is this how it always is?' They said, 'Yeah … no, actually it gets worse.'
"It's exciting to feel that excitement and tension again, but it's bad … it's tough!"
Football runs in the family — Danielle (she was Danielle Egan then) played six times for the U.S. women's national team. While Gio says he feels it was predestined that he was always going to be a professional footballer — "it's in my genes", he says — it was more chance than design, from Claudio's perspective.
"We never set out to make that happen, but you know, he loved kicking a ball from the moment he could walk around the house," Claudio says. "From the beginning, something I remember is when he was younger, he would sit there at 3, 4, 5 years old and watch football matches live and kind of understand the movement of players and where they're going. He was trying to figure it all out.
"I remember when he was younger and he played he would cry, he would scream, he would yell if he lost … he loved competing."
Gio talks football with Claudio every day, his dad offering him feedback in an understated, interpretative way. "He knows how it works," Gio says. "Football is such a big part of his life; I don't think he really has ever left it. I love talking about it and he finds a way to tell me [feedback] in Dad mode, but also in a football mode where he understands what it takes. It's all very relaxed but putting no pressure on at the same time."
Claudio's advice to Gio revolves around pacing himself. Though Gio is versatile as a player, Claudio reckons he will end up being a box-to-box attacking midfielder. "He can interpret that area well in space, but you know …" Here comes the fatherly qualification: "I do think that area on the defensive side, tactically with experience, from watching some of his teammates he will continue to improve. But his strengths are being able to create, finding teammates and being able to roam in different areas."
If Claudio is good cop, then mom, Danielle, has played bad cop in the past. "She's more about effort," Gio says. "If I had a bad training and she saw me slacking off … I definitely would get an earful in the car ride home. But she's very focused on my sleeping and eating habits and the way I take care of myself. I've certainly learned from her, and so thankful to have her."
Claudio hears this account of Danielle offering the tough love. "I'm glad you're bringing this up," he says as he laughs. "She was harder on him than me! But mom knows best with all this stuff and he's certainly taken a lot of her attributes as well."
"He's on his way," Claudio continues. "I'm proud of that because he eats well and takes care of his body. Some players struggle with that, but he has good habits and is in a good place with a good foundation."
Claudio and Gio Reyna have very different memories of Borussia Dortmund vs. PSG in the Champions League.
---
That family unit means the world to Gio. "We are very close," he says. "They've done a lot for me to help me reach where I am now. I try to stay as close as possible." Tattooed on his right arm is "Love Jack," in memory of his late older brother who died from complications of cancer in July 2012.
When it's breakfast in the Reyna household in the U.S. Gio is propped on the end of the family table via FaceTime. It's their way of negotiating the six-hour time difference.
When he's in and around the club, he loves hearing stories from the club's staff about when they played against his dad. "A few of my coaches like [15-year Dortmund veteran] Sebastian Kehl played against my dad and said he was a great player. It's kind of all hitting me now that he was obviously a very seasoned pro and did a lot throughout his career." But there was no fatherly influence behind Gio's similar start to his career.
"The decision to go to Dortmund was Gio's," Claudio says. "But I just told him the good thing about the Bundesliga are the habits you learn in the locker room, it's very disciplined and it's physically demanding. It's a great league in itself.
"This is his path; this is what he wanted to do. He wanted this life challenge and he's on his way. He's so happy, he's learning, and we're excited for him. We just want him to be happy and he is there."
---
The Reyna family planned to be in Eindhoven in March for what looked to be Gio's USMNT debut against the Netherlands. Despite being qualified to play for England, Portugal and Argentina, he was always going to declare for the U.S. In his own polite way, he said no thanks to other overtures and is now an active member of the USMNT's WhatsApp group.
"I want to play for the national team and kind of also carry on my dad's legacy there, so that's really cool," Gio says.
Claudio laughs at that talk of legacy in a here-we-go-again way.
"I just want to be in the background, just be his dad at any of those games and be his father throughout this journey," Claudio says. "We just crack jokes now about how I used to play. He doesn't feel any pressure, which is great. There's no … he's trying to live up to Dad or do anything like that or achieve more. He's well on his way, way further than I was at the same age.
"Everyone has their own path. It's been obviously so much fun as a dad seeing him grow and develop and become the player he is up and until now, because he's got a long way to go. For all of us in the family, we're rooting him on, and we just wish we could see him soon."


Source link