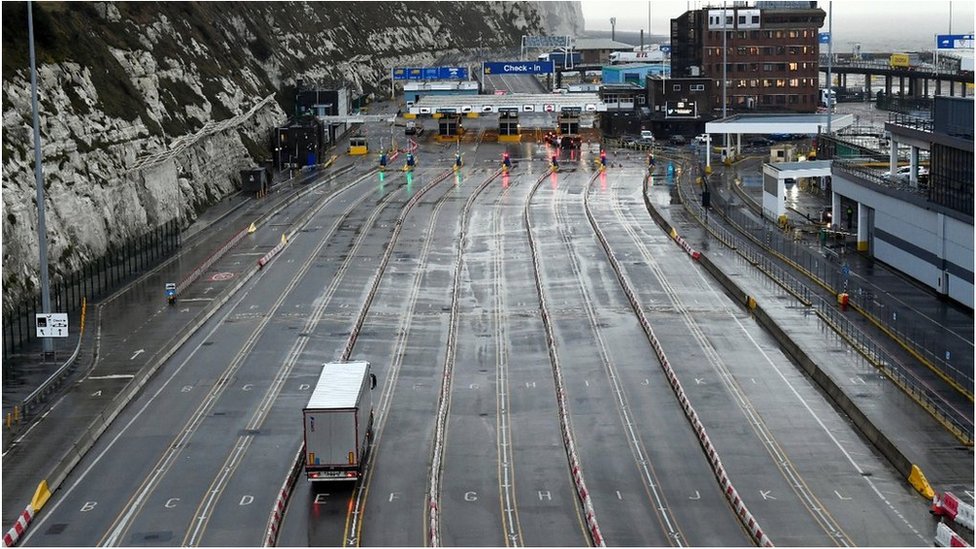 By Anthony Reuben
BBC Reality Check
It's been a week since the UK ended its transition period and completed its separation from the European Union.
British companies found themselves having to fill out customs forms to export to European countries, but we have not seen big queues on motorways in Kent that some feared.
View from the scene
Simon Jones, BBC News, in Dover
In many ways, it's been business as usual at the Port of Dover and Eurotunnel. A steady stream of lorries has been boarding ferries and trains to France.
But the new year has also brought new checks for hauliers. Predictions of gridlock in Kent have failed to materialise, but traffic is still exceptionally low – probably down to stockpiling in the run up to Christmas.
As more hauliers return to the roads, the new system will face sterner tests – particularly as Covid testing for anyone wanting to travel to France is set to continue for at least another couple of weeks.
On Monday morning, the Department for Transport said only about 1% of lorries had been turning up without the right customs paperwork with another 3% being sent to Manston for testing because of not having the necessary Covid result. It has not updated those figures since.
But on Thursday, the Road Haulage Association (RHA) told BBC News that about one in five trucks were being turned away for both reasons.
It estimated that there were about 2,000 lorries a day in each direction making the Dover-Calais ferry crossing and going through the Channel Tunnel compared with a normal daily figure of between 5,000-6,000.
John Glen, chief economist for the Chartered Institute of Personnel and Supply, told BBC News he had heard from customs clearance agents working in Dover that there was a lack of preparation from businesses and a lack of capacity from the customs brokers that businesses have been employing to help.
That is expected to improve over time, but people involved "are worried that demand will increase faster than capacity does", he said.
The boss of Sainsbury's also said that while the flow of goods had been going well so far the real test would be in a few weeks when there were normal levels of traffic.
John Glen added that many of the problems before Christmas had been because ports such as Felixstowe and Southampton had been log-jammed, partly because dock staff had been off sick. That meant ships had been avoiding UK ports and dropping containers off in Antwerp or Zeebrugge instead, leaving them to be transported by road, which increased the problems for roll-on roll-off ports such as Dover.
There have been reports of other issues in the first week:
Business leaders said there had been


"significant problems" with goods going from Great Britain to Northern Ireland. Six lorries on the first ferry arriving in Belfast on 1 January were delayed because of incomplete paperwork

While the UK government managed to roll over most of the third country trade deals it had as part of the EU that did not include Ghana. It was mentioned in Parliament this week that a tariff of £17,500 had been charged at Portsmouth on a shipment of bananas from Ghana
There has been confusion about customs declarations on parcels going from Great Britain to Northern Ireland, with some retailers such as John Lewis suspending deliveries. Northern Ireland Economy Minister Diane Dodds wrote to the UK government saying: "there is significant cause for concern from both businesses and consumers"
The Japanese carmaker Honda suspended production at its Swindon factory blaming global supply delays. It had also done so in December due to congestion at ports
Parents of children with severe epilepsy said they had no longer been able to get their prescriptions for a particular medicinal cannabis oil from the Netherlands. The health secretary said he was working with the Dutch government to find a solution
Some specialist online retailers in EU countries have stopped delivering to the UK saying that they would face higher costs and increased bureaucracy to comply with UK tax authorities
Trading in shares in companies in EU countries that had previously taken place in London moved to exchanges in other European countries
The Federation of Small Businesses says a lot of UK firms have temporarily suspended EU imports and exports to see how new changes bed in before deciding on next steps.
What claims do you want BBC Reality Check to investigate? Get in touch
Read more from Reality Check


Source link