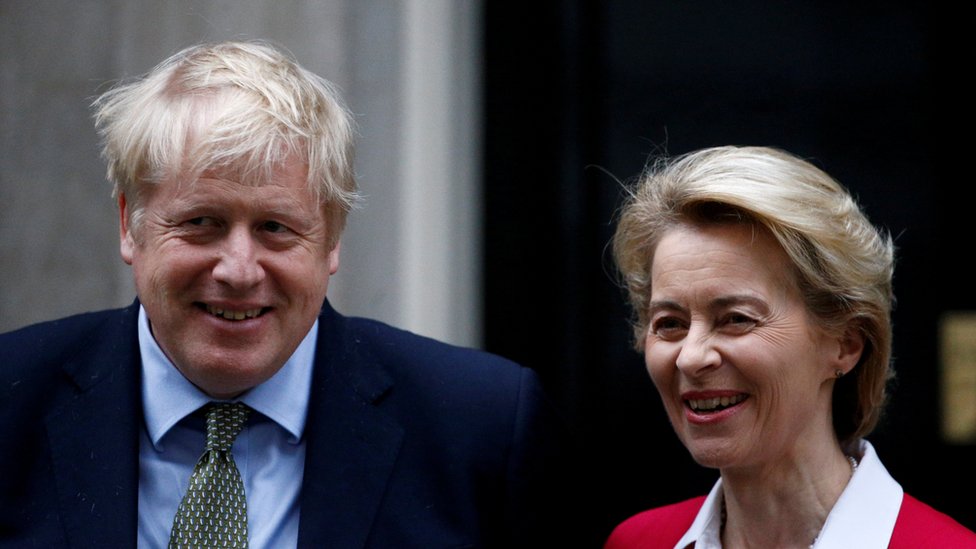 Related Topics
EU-UK post-Brexit trade talks
Boris Johnson will speak to EU Commission President Ursula von der Leyen later, as talks over a post-Brexit trade deal enter a crucial phase.
Downing Street said the PM would decide on "next steps" following an EU leaders' summit beginning on Thursday.
Mr Johnson has previously said both sides should "move on" if agreement is not reached at the meeting.
It comes as talks between officials continue in Brussels.
Both sides are calling on the other to compromise on key issues, including fishing and limits on government subsidies to businesses.
They are locked in talks over striking an agreement to govern their trading relationship once the UK's post-Brexit transition period ends in December.
Brexit: Time for trade deal getting short, PM warns

Brexit: Trade negotiators meet, as deadline looms
What are the sticking points in Brexit trade talks?
Ahead of Thursday's two-day EU summit in Brussels, a No 10 spokesman said fishing rights remained the "starkest" point of difference.
"We need to get substance settled and not having a common text to work from has made progress doubly difficult," the spokesman said.
He added that Mr Johnson had been "very clear" about the significance of this week's summit, but he could not "prejudge" the PM's decision.
'Coming days decisive'
As well as Mrs von der Leyen, European Council President Charles Michel is expected to join the call with the prime minister on Wednesday evening.
In a letter to EU leaders ahead of Thursday's meeting, Mr Michel said reaching a deal before December was "in the interests of both sides".
"This cannot, however, happen at any price. The coming days are decisive," he added.
He added that as well as fishing rights, "key issues" for a deal included post-Brexit rules on competition and how a deal would be enforced.
Why does 15 October matter?
Over the summer, both the UK and EU seemed to agree the end of October was the final date to get a deal done – allowing enough time for it to be ratified before 31 December.
But come 7 September, Boris Johnson decided to shorten the deadline.
He said if a deal wasn't reached by 15 October, "then I do not see that there will be a free trade agreement between us, and we should both accept that and move on".
Thursday is that day – but Downing Street appears to have moved back from it as a hard deadline.
Formal negotiations ended at the start of October, but Mr Johnson and Mrs von der Leyen pledged to "intensify talks" over the coming weeks.
Pressed on whether the UK would walk away on 15 October, all chief negotiator Lord Frost would say was it was his job to "advise the prime minister" on whether a deal was on the cards by then.


Source link