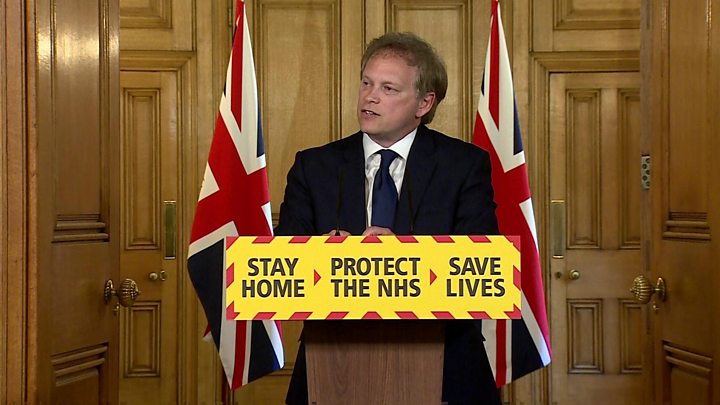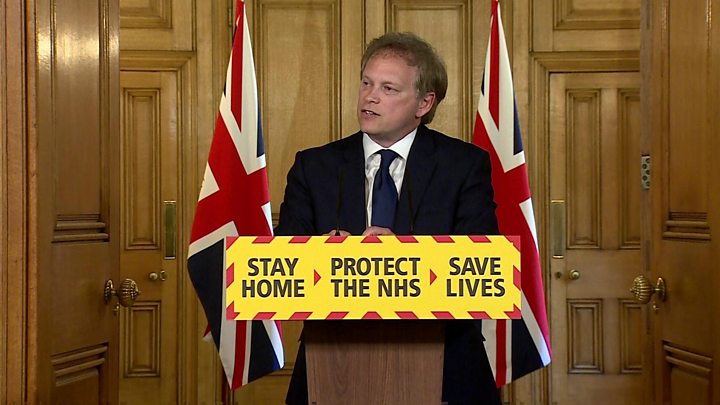 The government website for key workers to apply for coronavirus tests has reopened after "exceptional demand".
Speaking at Friday's daily briefing, Transport Secretary Grant Shapps insisted the site closed after "the slots for today were taken up".
It came back online on Friday evening, allowing key workers to apply for tests at drive-through centres, before being suspended again.
More slots were available on Saturday morning.
However, home testing kits were no longer available after less than 15 minutes of the site being reopened.
Some 16,000 bookings were made on the website on Friday.
The site had to close to new applicants within hours of launching, after 46,000 people tried to access it, but Mr Shapps said it had not crashed and that further tests would become available.
He also stressed the test was only suitable to test if you think you currently have coronavirus, not if you have previously had it.
No 10 has said appointments for tests at drive-through centres and home testing kits will become available from 08:00 BST each day, with their release staggered throughout the day.
How close is the UK to 100,000 tests a day?
Mr Shapps said ministers were "encouraged" by the initial demand for tests, and suggested that the government was on track to meet its target of 100,000 tests per day by the end of April.
"It looks like the trajectory to 100,000 tests by the end of April is going to be met in terms of capacity," he said.
"I would say, after today, the demand is there, so if those two things come together we will have it being met."
He added that getting "somewhere near" the 100,000 tests a day target would be an achievement by international standards.
Earlier, the prime minister's spokesman said 5,000 home testing kits had been ordered "within two minutes" of the website opening on Friday.
Up to 18,000 home testing kits per day will be available by the end of next week.
Downing Street said the government is trusting that those applying for tests are key workers, with no eligibility checks in place for online bookings.
Under the expanded testing scheme announced by Health Secretary Matt Hancock on Thursday, all essential workers in England and their families are eligible to register for tests on the government's website, if they have virus symptoms.
Up to 10 million key workers and their households are now eligible for testing, with the aim of allowing essential staff to safely return to work.
'They need people'
Liz Christie, an education support worker from Slough, Berkshire, successfully applied for a coronavirus test early on Friday.
She said was keen to get a test after developing a cough and sore throat, as she wanted to return to work at Slough Children's Services Trust.
"I don't want to infect the children and families I'm working with, plus my own family," she told BBC News.
Speaking after her test at a drive-through centre in Wembley, north-west London, Ms Christie said the process was "brilliant" but added that there were not many other people getting tested at the same time.
"It looks like there's five stations set up," she said. "All the stations were empty except mine, there were two cars in front of me and no-one behind me.
"They've got the infrastructure in place, they just need the people now."
Also speaking at the daily press briefing, the government's deputy chief medical adviser, Dr Jenny Harries, said the increased testing would mean there would be a less positive picture on the number of Covid -19 cases.
She stressed that the test on offer to key workers was the "have you got it now?" test, and said it would be a "wasted test" if it was used by people who did not have symptoms, or people in their households.
Friday's figures showed 28,532 tests were carried out, though the government says that capacity has reached more than 50,000 a day.
The latest data also showed a further 684 people died with the virus in UK hospitals, bringing the total number of deaths to 19,506.
Transport support
Also at the briefing, Mr Shapps announced the government would subsidise key supply routes to ensure that essential medical supplies and food can be transported during the pandemic.
With large sections of the economy frozen, volumes of freight coming in and out of Britain are significantly down.
Up to £17m has been made available for supply routes between Northern Ireland and Great Britain, and up to £10.5m for ferry and freight services to the Isle of Wight and Scilly Isles.
Further support is available for critical routes between Britain and the European mainland, including Eurotunnel, Mr Shapps said.
The government also pledged to give additional support to several English cities so that light rail and tram services can be maintained.
Manchester, Sheffield, the West Midlands, Nottingham and Tyne and Wear will receive funding.
And Mr Shapps announced the fast-tracking of trial drone flights between the mainland and St Mary's Hospital on the Isle of Wight to ensure it was equipped to tackle the virus.
In other developments:
The Guardian reported that the prime minister's chief adviser, Dominic Cummings, has been taking part in meetings of the UK's Scientific Advisory Group for Emergencies (Sage), which has provided advice to ministers throughout the coronavirus outbreak. A Downing Street spokesman said "it is not true" that Mr Cummings is on or member of Sage, adding that he has attended "some meetings"
At the briefing, England's deputy chief medical officer, Jenny Harries, dismissed Donald Trump's suggestion that people could inject themselves with disinfectant to battle coronavirus
The death toll in the US has passed 50,000 in what is the world's deadliest outbreak
Identical twin sisters have died within three days of each other after testing positive for the virus
Dyson has said the medical ventilator it developed to help treat patients with Covid-19 is no longer required
Two doctors who say they have been exposed to coronavirus patients are challenging government guidance on protective equipment
Can I get a test?
Anyone classified as an "essential worker" who is showing symptoms can request a test in England.
The list includes NHS and social care staff, teachers, police officers and transport workers.
They and their family can also request a test if someone in their household shows symptoms.
How will I be tested?
The test involves taking a swab of the nose and the back of the throat.
There are two ways to get a test: at a testing site, or with a home testing kit.
Home kits will initially be limited but are being sent to NHS staff.
Most people will get their test results by text within two days.
When can I go back to work?
Provided you and/or those in your household have not tested positive, you can go back to work.
That is so long as you are well enough and have not had a high temperature for 48 hours.
Are you one of the key workers? Share your experiences by emailing .
Please include a contact number if you are willing to speak to a BBC journalist. You can also contact us in the following ways:


Source link