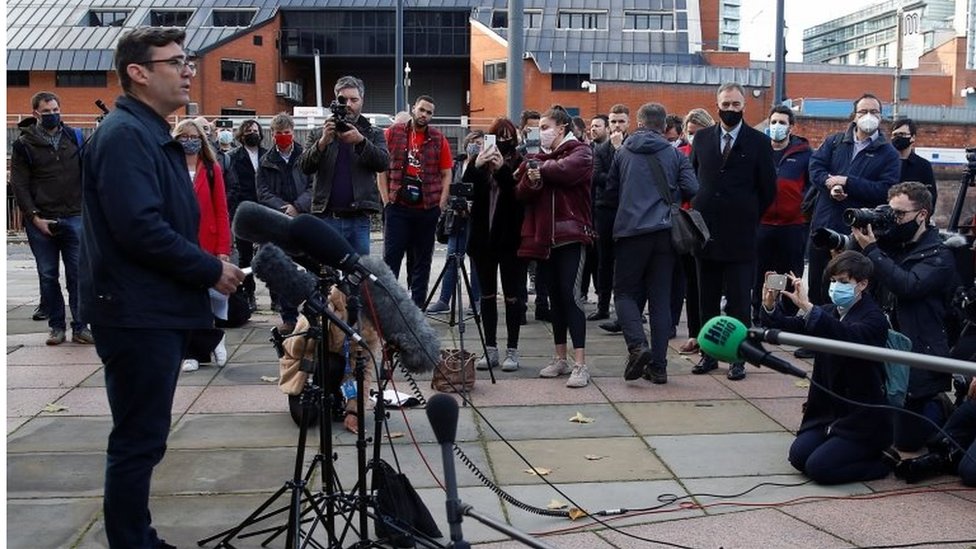 Greater Manchester mayor Andy Burnham's showdown with Boris Johnson over financial support for those hit by Covid rules is a fast fading memory as England goes into another national lockdown. But will it prove to be a turning point in the battle for more local control?
In England, mayors are traditionally ceremonial figures with chains of office, but no actual power. Council leaders call the shots in the vast majority of city and town halls.
But Mr Burnham is one of a handful of new metro mayors who, unlike council leaders, are directly elected.
As an experienced political operator, Mr Burnham knew how to seize the moment in his battle last month with the prime minister – leading to accusations of grandstanding from his opponents – but the fact that 359,352 people voted for him in 2017 added to his authority.
Former Chancellor George Osborne described it as: "The week the mayors came of age."
As the man who helped set up the new metro mayors system you would expect him to sing their praises.
How did we get here?
Over the past century, the process of devolution – the transferring of power from central government to a more local level – has ebbed and flowed in the UK.
In the latter half of the 19th century, industrialisation, massive population increases and the need for social reform led to the creation of more local councils often run by powerful figures. Joseph Chamberlain in Birmingham, for example, took control of utility services and used the revenue to build libraries and parks in the city.
Post-1945, central government was in the ascendancy as Labour delivered the welfare state.
How coronavirus is redefining Scottish politics

Coronavirus: Who's in charge?
Osborne: Burnham's profile shows success of new mayors
Conservative Margaret Thatcher clashed with high spending Labour councils and abolished six metropolitan councils including the Ken Livingstone-run Greater London Council. She also compelled local authorities to outsource more of their services to private companies – a policy enthusiastically embraced by subsequent governments.
Under the last Labour government devolution came back into fashion. Tony Blair paved the way for parliaments in Scotland, Northern Ireland and Wales. London got an elected mayor – but efforts to set up a directly elected regional assembly in the north-east of England were resoundingly rejected in a referendum.
As chancellor in David Cameron's government, Mr Osborne promoted the idea of giving more power to northern English cities – a project he dubbed "the Northern Powerhouse".
He set up devolution deals, whereby city regions could be given greater control over areas such as local transport – provided they were willing to move to a new model of governance including having an elected metro mayor.
Since 2017 metro mayors have been elected in Cambridgeshire and Peterborough, Greater Manchester, the Liverpool City Region, the North of Tyne, the Sheffield City Region, Tees Valley, the West of England and the West Midlands.
Confused? You are not alone…
Reflecting on the current state of English devolution at a recent MPs' committee, the witnesses, all academics, seemed to be in agreement on two things.
Firstly, power in England is still heavily centralised – it has frequently been labelled one of the most centralised large democracies in the developed world.
Secondly, the current arrangements for trying to decentralise power are… a bit messy.
"Opaque", "disconnected", "deeply confusing" – these were the responses when the witnesses were asked to describe governance in England.
"If you spend any time looking at the evolution of that intermediate level of governance in England over the last 20-25 years you really do need to wrap a wet towel over your head," Prof Richard Wyn Jones of Cardiff University told MPs.
Michael Kenny, professor of public policy at Cambridge University, said it was not always clear where the new regional metro mayors sit in relation to the existing city mayors and then in turn where that fits with local councils.
Who runs your local services?
In many parts of England, local government operates under a two-tier system, with both a county council and a district, borough or city council providing services.
County councils' responsibilities include education, social care and waste disposal.
Each county is subdivided into areas represented by district, borough or city councils. These councils are responsible for rubbish collection, housing and planning.
Some parts of the country are governed by a single body – for example a unitary authority or a metropolitan borough – which provide all local services.
Sometimes parish or town councils operate under district councils or unitary authorities – they can have responsibility for local issues including allotments and public clocks.
Under devolution deals, two or more councils can join forces to become a combined authority, allowing them to collaborate.
Metro mayors are the directly elected leaders of the combined authorities.
Despite the need for wet towels, political parties have, in recent years, appeared keen to pursue further devolution in England.
One reason for this is the belief that it could help tackle regional inequality or help "level up" the country to use the government jargon.
Prof Arianna Giovannini, from De Montfort University, says that "over-centralisation is the root cause of regional inequality in the country".
Prof Kenny says: "Local governments are in some ways too small to be able to deal with some of the really big policy challenges, while central government is too remote to really be able to have the depth of understanding."
Devolution in the time of Covid
Although a strong central state can lead to faster decision making, there is also an argument that the UK's response to coronavirus would have been better if local bodies had more power.
Prof Tony Travers from the London School of Economics argues that "councils and city regional mayors were barely part of the initial response to Covid-19," adding "the government has latterly realised it is impossible to deliver effective local responses from desks in Whitehall".
And Labour has repeatedly called on the government to allow local public health experts to run test and trace operations, rather than the company Serco.
Prof Giovannini says that in normal times the UK has been "more prone to policy blunders" due to its overcentralised model (she cites the 1989 poll tax as one example). "There is a tendency to a one-size-fits-all approach," she says. "With the pandemic this has been taken to the next stage."
"If you want recovery measures to be effective they have to be place-sensitive," she says.
This sentiment was recently echoed by more than 70 business leaders from the North of England who said: "We need the recovery led from here, with decisions and funding led by leaders here, not driven from Whitehall."
In a letter to the prime minister, they said: "A northern chancellor needs to devolve more, and create more metro mayors to ensure all the North can benefit."
Whitehall still holds the purse strings
Prof Kenny says the pandemic "shed a light on the fact that in terms of the relationship between central government and mayors, central government holds most of the cards, it controls most of the money".
Power lies with those who hold the purse strings – and while some mayoral combined authorities can raise money through business rates and council tax, they are largely reliant on the grants they get at the discretion of central government.
A parliamentary briefing on the subject says that "whilst mayors may do many things, in practice they can afford to do relatively few."
Mr Burnham recently told a House of Lords committee: "Devolution cannot be begging-bowl devolution, where we constantly go on bended knee, saying: 'Can we have a bit of money for this? Can we have a bit of money for that?'"
He said if the UK is serious about devolution, mayors should have access to substantial and flexible funding – and suggested this could one day include powers to borrow money and greater tax-raising powers.
But will that actually happen?
Following the hostile bargaining with Greater Manchester over lockdown measures, might the government feel reluctant to allow further devolution?
The Financial Times has reported that the prime minister is cooling on the idea of strong local leadership and Prof Kenny says that following "a bruising set of arguments" with metro mayors the government is "going to be very careful about how they advance the devolution agenda".
Prof Travers says while it is possible that a constitutional "reset" will result from the current situation, often in the past "the instinct of central government [of all parties] following a policy problem is to further centralise power."
"Devolution already appeared to have been put on the back burner" he says pointing to rumours that a White Paper on devolution is expected to be delayed.
'The genie is a bit out of the bottle'
Prof Giovannini agrees that the delayed white paper "doesn't bode well" but says "the genie is already a bit out of the bottle."
She argues the Andy Burnham's outdoor press conferences "could be the point devolution makes a breakthrough in the popular imagination".
Up until now devolution deals have appeared technocratic to the average citizen but if the general public come to recognise and support the mayors it could create "a force that cannot be controlled by the centre", she says.
And if voters turn out at next year's local elections in large numbers that could give mayors a strong mandate to demand the powers they want from Whitehall.
A spokesperson for the Department of Housing, Communities and Local Government says the government had worked "hand in hand with local leaders to determine the right local measures and support communities during the pandemic, including giving them an unprecedented £6.4bn in extra funding.
"We are levelling up all areas of the country and empowering our regions by devolving money, resources and control away from Westminster – this includes investing in transport, technology, skills and culture through our £3.6bn Towns Fund.
"Our detailed plans for further devolution will be set out in due course."
Related Topics
Local government

UK devolution
Andy Burnham
Andy Street


Source link