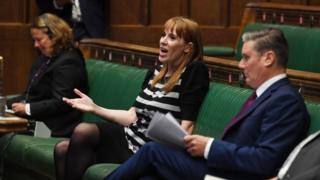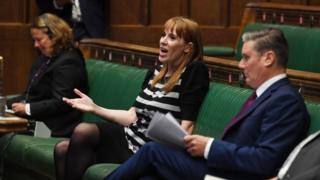 Labour's deputy leader Angela Rayner will face Boris Johnson at Prime Minister's Questions for the first time on Wednesday.
Ms Rayner is standing in for Sir Keir Starmer, who is self-isolating after a member of his family developed coronavirus symptoms.
She was a leading member of Jeremy Corbyn's shadow cabinet before being elected deputy leader in April.
It will be the first time she has led for the opposition at PMQs.
Recent clashes between Sir Keir and the PM over the government's handling of coronavirus and a succession of policy U-turns have dominated the headlines.
Who is Labour's new deputy leader Angela Rayner?
Like Sir Keir, Ms Rayner has spoken about the need for Labour to be a constructive opposition, telling The Guardian: "Johnson really hasn't stepped up, and I wanted him to, because I need my constituents to feel safe and be protected. I wanted him to do well."
In the same interview, she says the PM "needs to get up off his backside and lead" on racial inequality.
Ms Rayner, who has been MP for Ashton-Under-Lyme since 2015, was previously the shadow education secretary.
Former Labour leader Ed Miliband stood in for Sir Keir on Monday, in a clash with Mr Johnson over the Internal Markets Bill.
A spokesperson for Sir Keir said: "Keir Starmer is still awaiting the test result for a member of his family.
"He is therefore remaining in self-isolation and will not participate in Prime Minister's Questions tomorrow (Wednesday).
"Angela Rayner, Deputy Leader and Shadow First Secretary of State, will be taking his place. We have informed Number 10."
After Prime Minister's Questions, Mr Johnson will face questions from senior backbenchers on the Commons Liaison Committee about the UK's current negotiations with the EU and the economic response to the pandemic.
The 90-minute session, which will also cover the government's review of defence and foreign policy, will be the second time the prime minister has appeared before the body, which is made up of MPs who chair select committees.
In May, Mr Jonhson was asked about his chief aide Dominic Cummings' controversial trip to Durham at the height of the lockdown and problems with the UK's testing system and sourcing of protective equipment for NHS workers.
This time, those asking the questions will include Tory MPs Sir Bob Neill, Tobias Ellwood and Mel Stride, who have been critical of attempts by the government to seek powers to override the EU Withdrawal Agreement.
The committee is chaired by Conservative MP Sir Bernard Jenkin, who has defended the prime minster's actions and said the UK should repudiate the agreement if necessary.


Source link